Make Your Own Storyboard
What would preschool be without story time?  I for one, don't want to find out.  For me, story time has always been one of my favorite parts of the day.  I was not a confident storyteller when I first started teaching. Part of it was a lack of confidence, and part of it was a lack of preparation.  At home, with my children curled in my lap, story time was easy.  I could throw in a few funny voices, and they were good.  The classroom is a very different scenario. You have to engage your audience, and part of that is through planning and props.  I learned this from one of my favorite people on planet earth, my longtime teaching assistant.  She is a wondrous story teller!  Our first year together, I watched in awe as she captivated our kiddos with her wit, theatrics, and thoughtful preparation.  I will never forget her telling of one of her favorite stories, "The Paper Bag Princess." Just look at these props!
After a few weeks of her artful storytelling, our preschoolers were acting out the story on their own.  It was kind of magical!  And it taught me something, the key to good storytelling is having a plan, and here's where Read It Once Again will help a teacher out!  Our curriculum is full of tools for storytelling.  You just need to have a plan for how you're going to use them.  The first step…a storyboard!
There are several ways you can make a storyboard, but I'm going to walk you through the process of making one using a white panel board.  (At The Home Depot, it was called a "Thrifty White Panel Board"– you gotta love that!)
Here's what you'll need:
Panel board (may be called a shower board)

You can also use a tri-fold science board or a foam board.  Just make sure it's wide enough to hold at least four sequencing cards across and three cards down.

Velcro strips with the adhesive backs
Yardstick or tape measure
Pencil
*We are also going to fancy it up with some duct tape and pockets, but these are totally optional.
When you go to The Home Depot, you want to look on the aisle that has moulding and other boards.  In my store, it was aisle 17.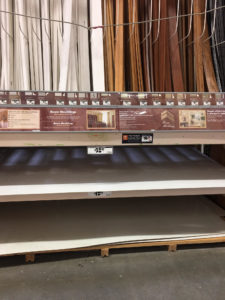 As you can see, it's just $12.97 for a 4 foot by 8 foot board.  This is enough to make three large storyboards, so you can get enough for yourself and your two favorite coworkers!  Plus, this particular board has a white board type of surface, so I can also write on it with dry erase markers.
The Home Depot friend who helped me was extremely nice.  I started to carry my board to the cutting machine, and he said, "Ma'am if my mama knew I let you carry that big old board yourself, she'd tan my hide."  (I live in Georgia, southern hospitality is alive and well.)  So he carried it for me and cut it down to 32″ by 48″.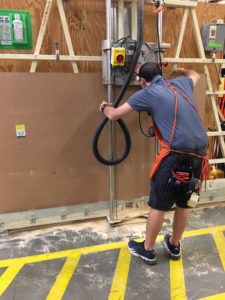 My board had some damage on the edges, and I could have asked him to trim that part off, but I decided to cover it up with some cute duct tape I found at Walmart for $3.99, so don't fret if your board isn't perfect.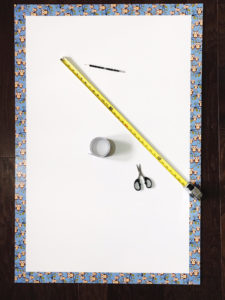 Now you're going to measure 8 inches down from the top and use the yard stick or tape measure to draw a straight line across the board (If you're not doing a border like I have here, you don't need to come down quite as far for the first line).  You'll use the line you draw to help you lay the velcro straight.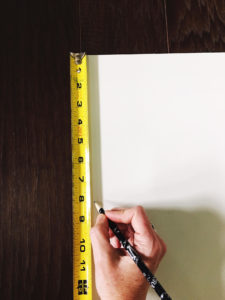 Measure another 8 inches from the first line and make another line across.
Continue making lines 8 inches apart down the length of the board.
Now you're ready to add the velcro.  (I put the tape on before the velcro.)  I used the soft side of the velcro on the board so I could use the crunchy side on the visuals.  That way, if I ever want to use my visuals on a felt board or carpeted bulletin board, they will stick.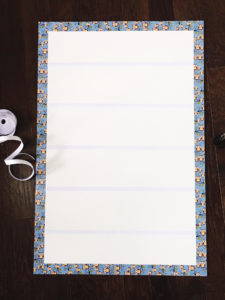 You may also want to add some pockets on the back of the board for storing your sequencing cards and other printed materials.  I also think keeping a copy of the story in a folder or pocket on the back of the board is a smart idea. (Nothing worse than not being able to find the story you want to read.)
Use this board for:
Sequencing stories, rhymes, and songs
Classifying objects
Counting
Which one is different
One-to-one correspondence
Find the pair
Who, what, where questions
Charting activities
Make up your own unique activities
My costs for this project:
Thrifty panel board $12.97 at The Home Depot
Velcro $10.99 for 40 feet on Amazon
Duct tape $3.99 at Walmart
Total: $27.95
Keep in mind that I have two more boards ready to be made with my leftover supplies.  Not too shabby for something I will use daily and can reuse year after year!
I'm sure you all have some fantastic ideas for your storyboards!  Please comment below and share with the group!