Benefits Children in Blended Early Childhood Classrooms
Read It Once Again Benefits Children in Blended Early Childhood Classrooms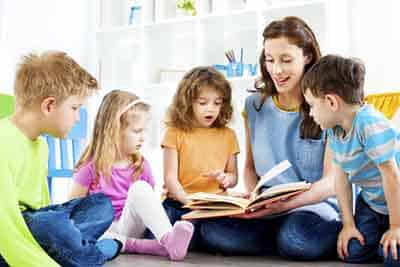 Teachers in blended classrooms have unique curriculum requirements.  They must provide activities to meet the needs of typically developing children as well as providing appropriate experiences for children with special needs.  Combining Read It Once Again's Level 1 and Level 2 literary curriculum units will meet the needs of all the children in your classroom.  Level 2 units are based on the same storybook as the Level 1 unit.  Many of the graphics used in Level 2 are identical to those used in Level 1.  The overall structure, parent letters and assessment format are the same.  This makes for a seamless transition between Level 1 and Level 2 units.  Each unit contains over 100 different activities.  Combining Level 1 and Level 2 units allows teachers to meet the needs of the children who require the most basic foundational skills while at the same time addressing the concepts necessary for those who are planning to enter kindergarten.
Our Level 1 activities reinforce basic fundamental concepts and are systematically offered in a variety of literacy based lessons throughout every unit and in each domain. Young children learn best when the environment and teaching strategies are solidly predictable with elements of creativity and exploration woven into each day.  Read It Once Again uniquely provides a flexible structure that promotes creativity and exploration.  
Read It Once Again Level 2 units concentrate on a higher level of foundational skills. Our Level 2 units combined with our Level 1 units ensure that the young child will have a solid knowledge of foundational skills and be prepared for success in the kindergarten setting.
Most of the concepts in our activities are offered in multiple levels of difficulty.  This allows teacher to work on a particular skill individually or in a small group setting with children functioning at different levels.  Every child has the opportunity to be successful which promotes a "can-do" attitude and fosters positive self-esteem.
Language skills are embedded into all of the domains in both Level 1 and Level 2 Units. Read It Once Again ensures that your children  will be constantly immersed into a language rich environment.


Which units would you recommend for my blended classroom? We suggest using a combination of Level 1 and Level 2 units.  You may want to use Level 1 units at the beginning of the school year for all of your children as they enter your program.  This will allow you to introduce or assess basic foundational skills.  Activities in Level 2 units can be introduced with those children who are ready to comprehend higher levels of learning.    Click here to see our Level 1 Skills and Concepts matrix.  Click here to view our Level 2 Skills and Concepts matrix. Read It Once Again offers units for 30 different storybook titles.  That ensures teachers will have a three year rotation of units so that children who stay with your program for multiple years do not need to repeat a unit or story. We suggest choosing our Package 6 deal.  Package 6 includes nine units for the price of eight.  It allows you to mix and match any of our Level 1 and Level 2 units.  Click here for more Package 6 Information. We also offer a "Doubles Discount."  This allows you to purchase any Level 1 and Level 2 unit of the same title for only $90.  Click here to order.