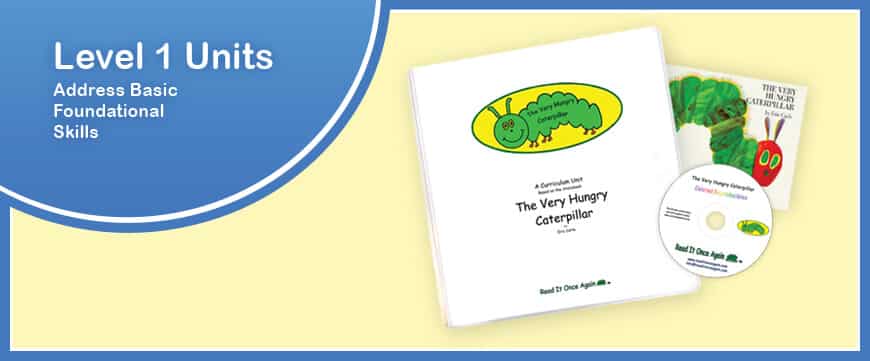 Read It Once Again Level 1 units systematically include activities that provide explicit instruction on the most basic foundational skills in the pyramid of educational learning.
Read It Once Again recognizes that some children enter our school systems without many of these very basic foundational skills in place.
Other early childhood curriculums may touch on beginning basic skills, but Read It Once Again uses rhyme, rhythm and repetition in our Level 1 units as a strategy to ensure that there is an intentional, extended focus on the most basic skills necessary for future academic success. Research has proven that having a firm understanding of these basic essential skills is necessary to achieve educational success in higher academic learning.
Our Level 1 activities reinforce basic fundamental concepts and are systematically offered in a variety of literacy based lessons throughout every unit and in each domain. Young children learn best when the environment and teaching strategies are solidly predictable with elements of creativity and exploration woven into each day. Read It Once Again uniquely provides a flexible structure.
Included in Every Level 1 Unit:
Introduction
Speech/Language
Cognitive
Motor
Daily Living
Socialization
Music and Rhymes
Assessment / Parent Letters
Lesson Plans
What Is Included In Each Level 1 Unit?
Each unit is structured in this format.
1. Introduction:
Teaching strategies and guidance for implementing each unit
2. Speech and Language:
Vocabulary activities and concepts
3. Cognitive:
Colors, numbers, shapes and more
4. Motor:
Gross motor covers large muscle activities
Fine motor covers cutting, pasting, lacing and pre-writing
5. Daily Living:
Dressing, hygiene and recipes relating to the story
6. Socialization:
Activities dealing with emotions, group games for peer interaction and reward certificates
7. Music and Rhymes:
Mother Goose rhymes, songs and finger plays
8. Parent Letters/Student Assessment:
Letters including goals and objectives to introduce and conclude the unit
9. Assessment Tool:
Student achievement based on goals and objectives in each domain are monitored by a numbered rating scale.
10. Graphics, Lesson Plans and Grids
Simple graphics of characters and objects found in the story
Assessment forms, plus one month of sample lesson plans
*** Color CD included with every unit
CD contains over 100 activities, parent letters, student assessment, lesson plans in word format, and printable graphics which teachers can manipulate in color or black and white which will decrease teacher prep time. What is included on the CD?