Benefits Children With Speech and Language Delays
Reading + Repetition = Language Development
Repeating stories and foundational concepts in a predictable and systematic format help those who struggle with processing receptive and expressive language. Read It Once Again uses the power of repetition to facilitate the skills necessary to organize and process language concepts. It generates the ability and confidence to convert auditory language processing skills into expressive speech.
Other early childhood curriculums may touch on beginning basic skills, but Read It Once Again uses rhyme, rhythm and repetition in our Level 1 units as a strategy to ensure that there is an intentional, extended focus on the most basic skills necessary for children with language delays to retain information. Research has proven that having a firm understanding of these basic essential skills is necessary to achieve educational success in higher academic learning.
Language skills are embedded into the activities in the Level 1 domains of Speech and Language, Cognitive, Motor, Daily Living, and Socialization. Read It Once Again ensures that your students will be constantly immersed into a language rich curriculum.

Our Level 2 units focus on a higher level of prekindergarten learning. These units will provide opportunities to address phonology and morphology. Language skills are included in each of these domains.

Goals and objectives for activities provided in the speech and language section of every unit are designed to fulfill the requirements of many Individual Educational Plans (IEPs) for children with language delays. This feature enhances the probability of mastering IEP goals and objectives.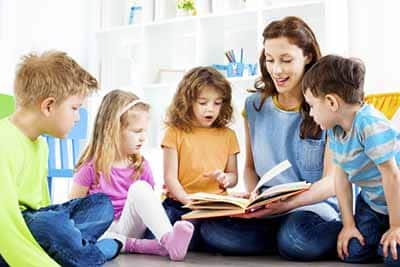 Most of the concepts in our activities are offered in multiple levels of difficulty. This allows therapists to work on a particular skill individually or in a small group setting with children functioning at different levels. Every child has the opportunity to be successful which promotes a "can-do" attitude and fosters positive self-esteem.
Each unit includes an "At-A -Glance" as an introduction to the vocabulary used in the story. At- A- Glance lists all of the nouns, verbs, and teachable concepts found in the story. This is a handy tool for Speech and Language therapists who are seeking stories with a low or high volume of vocabulary, particular nouns, verbs or words with certain suffixes or pretexts.
Click here to see our Level 1 Skills and Concepts matrix. Click here to view our Level 2 Skills and Concepts matrix.
Read It Once Again Literary units are presented in a format which encourages teachers, therapists, parents and other related services to easily share the content of the curriculum. The storybook, the unit, its goals and objectives, and related activities in each domain become the common factors which unite professionals to intertwine and overlap services. Therapists can easily provide push- in services in the classroom which benefit teachers and most importantly, children.
Which units would you recommend for my children with Language Delays?
We suggest using Level 1 units for young children first entering your program to ensure that your students have solidly mastered the most basic foundational skills. Activities in Level 2 units can be introduced later in the year if your children are ready to comprehend higher levels of learning.
Read It Once Again offers units for 30 different storybook titles. This ensures that therapists will have a three year rotation of units so that children who stay with your program for multiple years do not need to repeat a unit or story.
We also offer a "Doubles Discount." This allows you to purchase any Level 1 and Level 2 unit of the same title for only $90. Click here to order.
Click here to view our options for package deals available at discounted prices.