Benefits - Preschool Children with Special Needs
Read It Once Again Benefits Preschool Children with Special Needs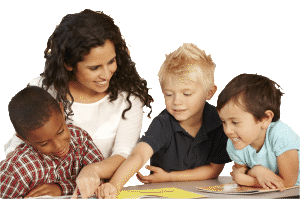 Other early childhood curriculums may touch on beginning basic skills, but Read It Once Again uses rhyme, rhythm and repetition in our Level 1 units as a strategy to ensure that there is an intentional, extended focus on the most basic skills necessary for children with special needs to retain information. Research has proven that having a firm understanding of these basic essential skills is necessary to achieve educational success in higher academic learning.
Language skills are embedded into the activities found in the domains of Speech and Language, Cognitive, Motor, Daily Living, and Socialization. Read It once Again ensures that your child will be constantly immersed into a language rich environment.
Repetition is an important factor in the teaching strategies offered within the Read It Once Again curriculum units. Our Level 1 activities reinforce basic fundamental concepts and are systematically offered and repeated in a variety of literacy based lessons throughout every unit and in each domain. Young children learn best when the environment and teaching strategies are solidly predictable with elements of creativity and exploration woven into each day. Read It Once Again uniquely provides a flexible structure that promotes creativity and exploration.
Reading + Repetition = Language Development
Goals and objectives for activities provided in each domain of every unit are designed to fulfill the requirements of many Individual Educational Plans (IEPs) for children with special needs. This feature enhances the probability of mastering IEP goals and objectives.
Most of the concepts in our activities are offered in multiple levels of difficulty. This allows teachers to work on a particular skill individually or in a small group setting with children functioning at different levels. Every child has the opportunity to be successful which promotes a "can-do" attitude and fosters positive self-esteem.
Which units would you recommend for my children with special needs?
We suggest using Level 1 units for young children first entering your program to ensure that your children have solidly mastered the most basic foundational skills. Activities in Level 2 units can be introduced later in the year if your children are ready to comprehend higher levels of learning. Click here to see our Level 1 Skills and Concepts matrix. Click here to view our Level 2 Skills and Concepts matrix.
Read It Once Again offers units for 30 different storybook titles. That ensures teachers will have a three year rotation of units so that children who stay with your program for three years do not need to repeat a unit or story.
We offer several different money saving package deals where you can purchase nine units for the price of eight. Package 1 Easy Readers, is great for classrooms with 3 yr. olds or those who require books with minimal text. Package 3 features books with rhyme, rhythm and repetition for young children or children with autism.
Click here to view Package 1
Click here to view Package 3
Click here to view other options for package deals available at discounted prices.