Description
*Digital product downloads are made automatically available after payment. If using PayPal, click "Return to Merchant" after payment & a download button will appear.
Read It Once Again offers Curriculum Units and Interactive White Board activities based on the popular storybook, "The Very Hungry Caterpillar" by Eric Carle.
Available:  Level 1 curriculum unit, Level 2 curriculum unit, and Level 1 Interactive White Board Activities.  Select an individual product, combo or double deal.
The storybook is not included.  To purchase book please refer to our Scholastic Literacy Partners page.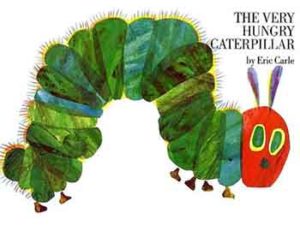 Storybook and LEVEL 1 Curriculum Unit Highlights:
Reinforces the days of the week
Practices counting skills
Teaches food identification
Reinforces story-telling sequencing skills
Provides an opportunity to discuss how a caterpillar turns into a butterfly
Unit can be used any time of the year
Storybook and LEVEL 2 Curriculum Unit Highlights:
Upper case/lower case; rhyming words; Butterfly Match-up Letters; One or Many Plurals; Fancy Butterfly Number Words Match; Syllable Counting
Number identification; simple addition and subtraction; Caterpillar Marching to 100; Counting Eggs on a Leaf Patterning; Caterpillar Obstacle Course; Three Dimensional Shapes; Sorting Groceries
Hungry Caterpillar Life Cycle Book; Pasta Sequencing; The Caterpillar, A Closer Look; Class Book; Making Sense of Butterflies; Caterpillar's Food Choices; Who Laid an Egg?
My Food Journal – Parent and Child Activity; If I Were a Butterfly Writing Prompt; What is the Caterpillar Doing in His Cocoon?
Trip to the Grocery Store Shopping Check List; Who Keeps Me Safe?; My Ages and Stages Book
Digital Version Purchasers: Regular Price $40. Introductory Sale Price Through March 31st, 2018 $25:
Read It Once Again gives permission in the form of a limited license to use this digital product. Images used are copyrighted and may not be shared without permission. The digital version is intended for use by the purchaser only, and should not be shared in any form by any means – graphic, electronic, photocopy, or other uses.