Description
Read It Once Again offers Curriculum Units and Interactive White Board activities based on the popular storybook, "The Little Red Hen" by Lucinda McQueen.
Available:  Level 1 curriculum unit, Level 2 curriculum unit, and Level 1 Interactive White Board Activities.  Select an individual product, combo or double deal.
The storybook is not included.  To purchase book, please refer to our Scholastic Literacy Partners page.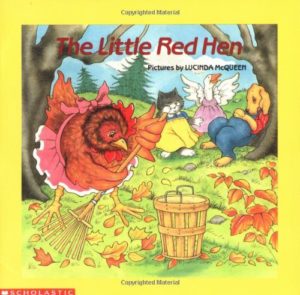 Storybook and LEVEL 1 Curriculum Unit Highlights:
Classic children's story
Teaches animal identification
Practices story-telling sequencing skills
Repetitive words and phrases
Reinforces the importance of being a good helper
Provides opportunities for baking and related snacks
Storybook and LEVEL 2 Curriculum Unit Highlights:
Upper case/lower case; rhyming word; Dice; Loaf Letters
Number identification; simple addition and subtraction ; Play Dough Pretzel Numbers; Comparing Weight; Wheelbarrow Shape Obstacle Course
Once Upon a Time…Writing Prompts; My Hen Story
If I Were A…. Story Writing Prompts; If I Were a Boat, Where Would I Float?
How Do We Get Bread; Sequencing Activity; Classroom Helpers, Go Tell the Gossip Goose; Community Helpers; Who Helps Me?