Description
Read It Once Again offers Curriculum Units and Interactive White Board activities based on the popular storybook, "Is Your Mama A Llama?" by Deborah Guarino.
Available: Level l curriculum unit, Level 2 curriculum unit, Level 1 and Level 2 Interactive White Board Activities. Select an individual product, combo, or double deal.
The storybook is not included.  To purchase book please refer to our Scholastic Literacy Partners page.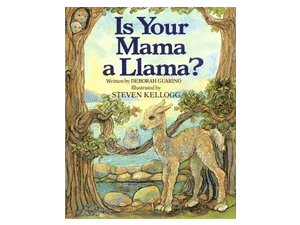 Storybook and Level 1 Curriculum Unit Highlights:
Teaches animal identification
Matches mother and baby animals
Predict which animal will be on the next page
Rhyming text
Teaches knowledge of animal homes and dwellings
Practices asking and answering questions
Level 2 Curriculum Unit Highlights:
Upper case/lower case identification
Favorite words and phrases
Color words
Counting syllables
One or many
Addition/subtraction
Friendship
Science journal
Habitats
Rhyming words