Description
Read It Once Again offers Curriculum Units and Interactive White Board activities based on the popular storybook, "Clap Your Hands" by Lorinda Bryan Cauley.
Available:  Level 1 curriculum unit, Level 2 curriculum unit, and Level 1 Interactive White Board Activities.  Select an individual product, combo, or double deal.
The storybook is not included.  To purchase book please refer to our Scholastic Literacy Partners page.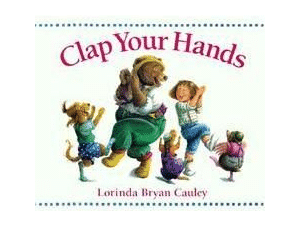 Storybook and Level 1 Curriculum Unit Highlights:
Teaches animal identification
Variety of gross motor movements
Practices positional concepts
Simple humorous graphics
Identification of body parts
Rhyming text
Good introductory unit
Storybook and Level 2 Featured Activities: 
Phonemic Awareness:
Clap Your Hands Alphabet Matching Game
Clap Your Hands Alphabet Cards (letter identification)
Writing Color Words
Words in Action
Clap Your Hands for Syllables
Math
Clown Hats and Pompoms (number identification)
Clothes Basket Addition
Sock Subtraction
We Can Draw Shapes
Clap Your Hands for Shapes (shape identification)
Science
Science Journal
Clap Your Hands for Animals (animal identification)
Quiet as a Mouse or Loud as a Lion
Creative Writing and Social Studies
Clap Your Hands Stories
Why Are They Smiling? Why Are They Frowning?
Feelings Class Book