Interactive White Board Activities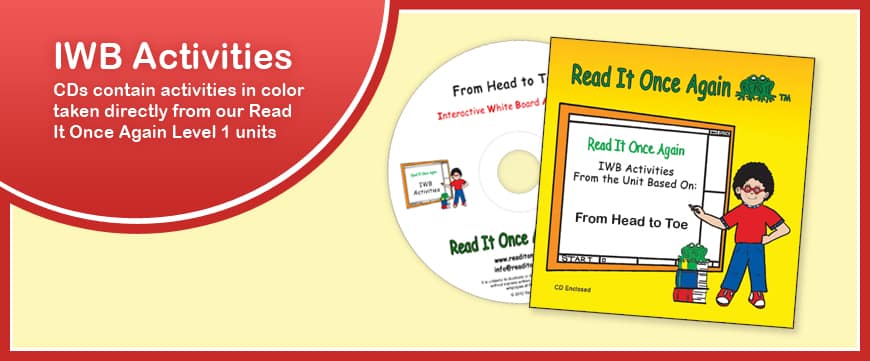 Read It Once Again Interactive White Board (IWB) CDs contain activities that are in folders in color taken directly from our Read It Once Again Level 1 units. Most of the activities contain identical grids and answers as found in the unit and cover each of the domains. When appropriate, the answers are offered separately which allows them to be movable and interactive for your students.
The graphics on the IWB CD are in PNG format and will need to be transferred to your operating system. Once you complete the transfer you will have them forever in your system. Refer to the instructions on the CD for further details. An advantage that the IWB CD offers over other Apps is that you can manipulate the images and make your own activities to accommodate the individual needs of each child in your classroom. The time factor of importing the visual graphics will be well worth the effort. The graphics are the exact same images found in our unit binders and reinforce visual repetition. The visual repetition helps to generalize the foundational skills repeated in every unit and enhances receptive and expressive language. While the initial set up may be time consuming, the end result has many educational advantages.
Each IWB CD Contains Over 20 Activities:
Positional Concepts
Story Sequencing Cards
Pattern Matching
Big and Little
Which One is Different?
Color Matching
Shape Matching
Count and Match
Classification
Mother Goose
Sequencing
Puzzles
Graphics
And SO Much More!