Description
Read It Once Again offers Curriculum Units and Interactive White Board activities based on the popular storybook, "The Napping House" by Audrey Wood.
Available:  Level 1 curriculum unit and Level 1 Interactive White Board Activities.  Select an individual product or combo.
The storybook is not included.  To purchase book, please refer to our Scholastic Literacy Partners page.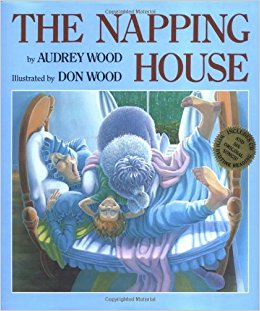 Storybook and LEVEL 1 Curriculum Unit Highlights:
Repetitive text
Reinforces story-telling sequencing skills
Great story-telling graphics
Story appeals to preschool humor
Discussion about bedtime routines
Good unit to use anytime during the school year
Storybook and LEVEL 2 Curriculum Unit Highlights:
Upper case/lower case; rhyming words; Napping House Opposite Cards; Rainbow Color Book; Around the House Napping House ABC Letter Cards
Number identification; simple addition and subtraction ; Granny Can Draw Shapes; Rainbow Counting; Counting Clouds; Making Predictions
Collecting and Measuring Rain; Making Windsocks; Weather Journal; Mixing the Rainbow Colors; Fun Weather Facts
Napping House Writing Prompts; My Snoring Granny Story; My Dozing Dog Story
Who Lives in My Napping House?; Who Builds a House Vocabulary and Picture Cards