Description
Read It Once Again offers Curriculum Units and Interactive White Board activities based on the popular storybook, "The Mitten" by Jan Brett.
Available:  Level 1 and Level 2 curriculum unit and Interactive White Board Activities.  Select an individual product or combo.
The storybook is not included.  To purchase book please refer to our Scholastic Literacy Partners page.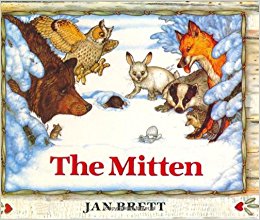 Storybook and Level 1 Curriculum Unit Highlights:
Extensive text and vocabulary
Teaches animal identification
Variety of gross motor movements associated with each animal
Story-telling sequencing skills
Discuss Ukrainian culture
Colorful detailed illustrations
Good winter unit
Level 2 Featured Activities:
Phonemic awareness:

The Mitten Alphabet Cards (letter identification)Matching Boots Color WordsSnowball Syllables

One or Many Animals (plurals)

Animals in Action (action words)

Math:

Dots & Numbers on a Mitten (number identification)

A Basket Full of Yarn (graphing)

The Mitten Simple Addition and Subtraction

Shapes in a Mitten Shape Book

Science:

A Closer Look at Animals in the Mitten

What is Snow?

Nicki, It's Cold Outside! (weather chart)

The Great Snowball Melt (measuring with a thermometer)

Creative Writing and Social Studies:

The Mitten Creative Writing Stories

If I Were a _____, Action Writing Prompts

It's a Cultural Thing (Ukranian Culture)