Description
Read It Once Again offers Curriculum Units and Interactive White Board activities based on the popular storybook, "The Gingerbread Man" by Karen Schmidt.
Available:  Level 1 curriculum unit, Level 2 curriculum unit, and Level 1 Interactive White Board Activities.  Select an individual product, combo or double deal.
The storybook is not included.  To purchase book, please refer to our Scholastic Literacy Partners page.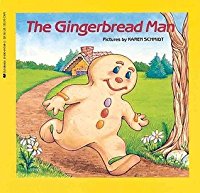 Storybook and LEVEL 1 Curriculum Unit Highlights:
Classic children's story
Repetitive words and phrases
Practices story-telling sequencing skills
Simple colorful graphics
Provides opportunities for baking and cookie decorating
Perfect story for the holiday season
Storybook and LEVEL 2 Curriculum Unit Highlights:
Upper case/lower case; rhyming words; Clap It Out – Gingerbread Man's Favorite Phrases; Cookie Pan Rhyming; Gingerbread Man ABC Rhyme; Cookie Names; Gingerbread Letter Bingo
Number identification; simple addition and subtraction; How Many Buttons Will Fit? Estimating, Button Count Graphing; How Much is a Handful – Grab, Count and Graph; 10 Little Gingerbread Men – Counting Backwards Book; Button Rulers – Measuring
Gingerbread Man's Science Journal; What is Gingerbread?; Hot or Cold?, Graphing and Sorting Cards; Sandpaper and Cinnamon – Sensory Experience; Baking Cookies
Gingerbread Man Writing Prompts; Sly As a Fox Story; Favorite Foods
Gingerbread Man Class Book; Trip to the Grocery Store Checklist; Baker's Hat