Description
Read It Once Again offers Curriculum Units and Interactive White Board activities based on the popular storybook, "Jump, Frog, Jump!" by Robert Kalan.
Available:  Level 1 curriculum unit, Level 2 curriculum unit, and Level 1 Interactive White Board Activities.  Select an individual product, combo or double deal.
The storybook is not included.  To purchase book, please refer to our Scholastic Literacy Partners page.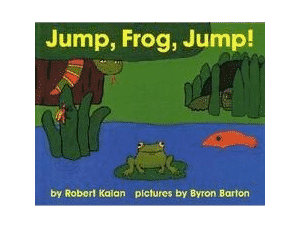 Storybook and LEVEL 1 Curriculum Unit Highlights:
Simple repetitive text
Colorful illustrations
Reinforces story sequencing skills
Animal identification
Provides opportunities for discussion of pond life
Good introductory unit or use as a springtime theme
Storybook and LEVEL 2 Curriculum Unit Highlights:
Upper case/lower case; rhyming words; One or Many Plurals; Go Fish Color Words
Number identification; simple addition and subtraction ; Numbered Fish Bowls; Snake Book; Slithering Snake Numbers
Pond Discoveries Journaling; Fun Turtle Facts; Frog Life Cycle; Graphing Webbed Feet
If I Were A…. Story Writing Prompts; If I Were a Boat, Where Would I Float?
My Habitat; A Trip to the Aquarium and Pet Store